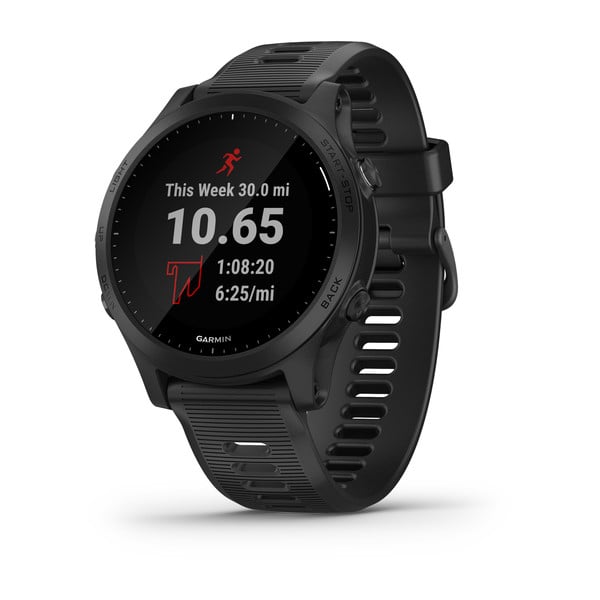 Let's face it, the watch is one of the most important pieces of kit we are going to have during a race or training. Heart rate, speed, distance are all captured for instant feedback, and transferred to online applications for tracking and record keeping. Some important features to consider are battery life (especially for Iron distance races), adjustable pool sizes for swimming at home, comfort, and ease of use. This Garmin is a workhorse and will last for years. It has great native integrations with Garmin Connect, and supports safety features such as Live track and incident detection.
Triathletes need to protect themselves from the sun, but this is not an easy task. For starters, many sunscreens are applied before the swim and are largely gone by the time T1 rolls around. Re-applying takes precious time from the finish, and might be the difference between a podium and a participation award. The goal is to use something that works for the whole race with minimal re-application needs. Zealios has met that challenge on numerous races keeping me protect from start to finish.
Triathlon involves a lot of gear. Multiple changes of clothes, shoes, hats, helmets, sunglasses, water bottles, towels, nutrition, lubes, ointments, you get the idea. Carrying all of this in addition to a bike is not always an easy task. Ideally, a bag is easy to carry WHILE riding a bike to accommodate long parking to transition races. It should also have good storage space with plenty of pockets for specific items, as well as wet and dry pockets to keep your swim gear separate from the rest of your equipment after the race.
Maybe one of the best recovery options out there. Use these sitting on the couch after a big session, or ride shotgun on the way home from a race and enjoy the battery that let's you run these without a power source. This is a key component to get back out there faster.
There are few things worse than enduring a poor swim leg of a race. With all of the things that can go wrong and are out of your hands, why chance the few things you can control. Goggles are one of the elements you can control, and there are a few decisions to make with these. After trying out many types, a few features have stood out. The first is an easy adjusting ratchet system to tighten or loosen the straps to keep the water out. This makes last minute tweaks easy and effortless. A soft eye cup that won't leave you in pain during a long swim, and doesn't make you look like a racoon at the office after early morning swims. And maybe most important, a light sensitive lens that will darken or lighten based on sun conditions. Because swims often have direction changes there will be different sun exposures throughout. With an adjusting photo chromatic lens, the swimmer won't have to choose for only one section of the leg.
The often over looked post race and workout recovery is the difference between facing a staircase with confidence the day after a big race, or searching for the wheelchair ramp. There are numerous devices and techniques to consider, some being better depending on the situation and fatigue involved. Rollers are a dependable standby, and can be easily packed for a destination or travel race.
Safety first in the water with swim buoy's. The New Wave buoy inflates easily, has a dry compartment for keeping valuables such as your car keys, and is a high visibility color to help boaters spot you. This buoy is light and barely noticeable when swimming, and will be with me on every OWS to come.
Something to remind us we all suffer on the bike from one of the best at it. A great book on one of the most colorful personalities in Cycling, Jens Voigt talks about his life growing up and some of his favorite racing and career moments.
The Amazon links on this page do not cost you anything, but give a chance help out and pick up the things you need anyway. Win win!